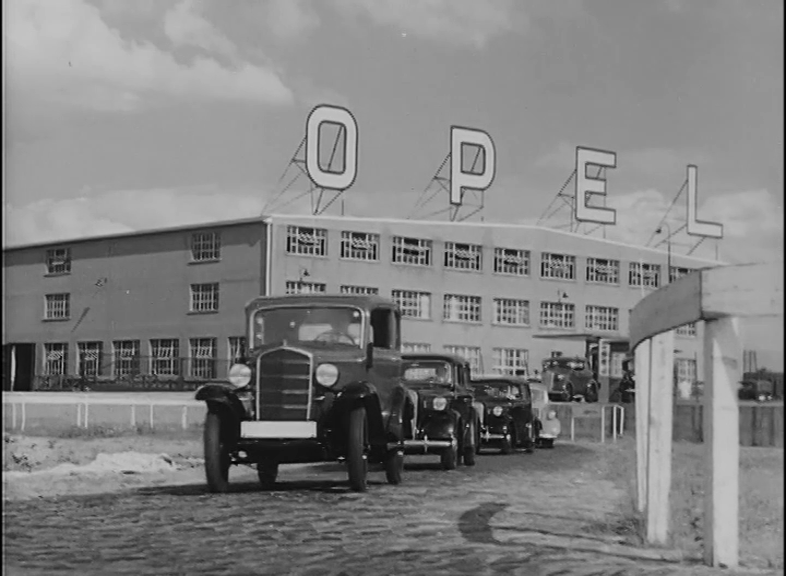 KAMPF UM RAUM UND ZEIT

DE 1937. Dir: Johannes Guter. 43 min
With Werner Pledath, Hans Leibelt, Volker von Collande, Kurt Mühlhardt, Michael von Newlinski, Lotte Spira,

"Eternally long – as long as the earth exists, the fight for space and time continues. Alternate and multiple was the means by which man waged this struggle."

World-historical murmuring, the film program for this "Opel film of Ufa" tunes its audience into a "mobility study" that is expansively tuned from beginning to end, "from the relay runner to the courier on horseback […] right into the creation of one of our greatest industries today."

Fordism and Fascism press the gas pedal in unison: "Five hundred and fifty automobiles every day – the marvel of mass production opens up before our eyes, unique in its size and simplicity."

The industrial footage is supplemented by idyllic joyrides, fast-paced test drives and game scenes with friendly shop talk. The designer of the film was Latvian Johannes Guter, and his assembler was Russian-born Eugen York. In the 1940s, he worked for Ostland-Film GmbH, which produced propagandistic films for the conquered "Ostraum."


only online!