Go West!
Eastern European Filmmakers in Western Europe
34th International Film History Conference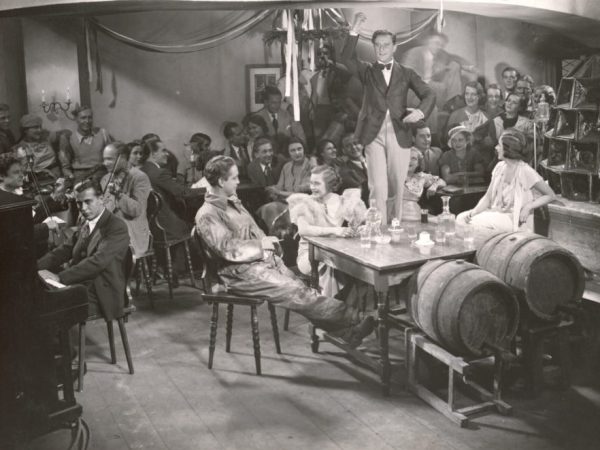 The 34th International Film History Conference is an integral part of cinefest, where the topics of the festival will be explored in presentations and discussions. The Conference Opening will take place on November 18, 2021 in the Metropolis Cinema. During the event, the winners of the Willy Haas-Award will be presented. The conference presentations will take place from November 19-21, 2021, also at the Metropolis cinema, each day from 9:30 a.m. – 4:00 p.m.
Prior accreditation is required for participation.
At 5pm starts the film program at Metropolis cinema.
In recent decades, the fate of Eastern and Central European, Jewish filmmakers who, while working in the German speaking film industry were driven into exile by the Nazi's racism, has been relatively well researched – not in the least through CineGraph and cinefest. But in addition there are countless filmmakers of all trades from Eastern and Central Europe who worked in Western Europe in the 20th century; whose careers have been far less researched. They migrated not only in reaction to political upheavals (from the "October Revolution" up to the end of the Prague Spring), but also to improve their professional opportunities. Their careers and experiences in the west spanned a diverse spectrum of both success and failure.
One example, Latvian actress Marija Leiko travelled from Riga (then Russian Empire) to Germany, where she became a star in silent film. As sound films became the market standard, her film career ended and she returned to Riga. During the Stalinist terror, she was shot by the NKVD in 1938 (rehabilitated in 1957). Her partner Janis Guters (Johannes Guter), with whom she had come to Berlin, in 1917, directed numerous films in Weimar cinema. He remained in Nazi Germany and ended his film career with a series of "Tran und Helle" propaganda shorts. He died in the GDR in 1962.
After the founding of the Soviet Union, numerous Polish and Ukrainian filmmakers (from the Russian Tsarist Empire) were faced with the choice of either continuing to work under the strong influence of Moscow or go West.
After 1917, Russian set designer and film architect Andrej Andrejev decorated numerous important films in Berlin (THE 3 PENNY OPERA), London, and Paris. After having worked closely with the German occupation company Continental (LE CORBEAU) during World War II, he no longer received commissions in France and went to England (THE MAN BETWEEN) and the Federal Republic of Germany (MADELEINE UND DER LEGIONÄR).
The careers of Czechoslovak filmmakers – e.g. director Karel Anton, producer Miloš Havel, writer & director František Čáp, director Stanislav Barabas or cinematographer Igor Luther – can be used to analyze the film situation under different political conditions between the German Reich, Czechoslovakia, the "Protectorate of Bohemia and Moravia" and the Federal Republic of Germany.
The DEFA Stiftung is restoring the oeuvre of Slatan Dudov, including about 10 films, which – just like his career in the Weimar Republic, in France, and in the GDR – will be a focus at cinefest.
At cinefestand the conference we are researching numerous "fractured" careers of filmmakers from Eastern and Central Europe to Western Europe and will present an interesting in-depth cross-section of such largely forgotten filmmakers.
Thursday, 18 November 2021
20:00 Conference-Opening and presentation of the Willy Haas Awards
FRÜHLINGSSTIMMEN (AT 1933, Paul Fejos), 84 min
Friday, 19 November 2021
09:30 – 09:45 Begrüßung
KEY NOTE
09:45 – 10:15
György Dalos, Berlin: Was hinter der Leinwand geschah – politisches und kulturelles Exil in der Zwischenkriegszeit
PANEL 1:
10:30 – 11:15
Reká Gulyas, Berlin / Budapest: Der rasende Regisseur – Alfréd Deésy (Kämpf) / 1877–1961
PANEL 2:
11:30 – 12:15
Jürgen Kasten, Berlin: Film muss plastisch werden. Andrej Andrejew in verschiedenen Produktionssystemen
12:15 – 13:30 Lunch Break
13:30 – 14:15
Wolfgang Martin Hamdorf, Berlin: Der gute Spanier – Die kulturelle Flexibilität des Ladislao Vajda [AT]
14:30 – 15:15
Martin Abraham, Kiel: Anpassung ohne Routine. Wie Viktor Tourjansky mit kreativer Assimilationsfähigkeit von 1921–1962 in sechs westlichen Ländern 59 Spielfilme drehte
15:30 – 16:00
Das Bundesarchiv stellt sich vor
Saturday, 20. November 2021
PANEL 3:
09:30 – 10:15
Anita Uzulniece, Riga: Maria Leiko. Hat ihr Stern am Filmhimmel geleuchtet?
10:30 – 11:15
Guido Erol Hesse-Öztanil, Hameln: »Mein Herz ist eine Jazzband« Lya Mara. Ein Kinostar aus Riga
11:30 – 12:15
Peter Bagrov, Rochester, NY: Anna Sten on the crossroads of Soviet silent film acting schools
12:15 – 13:45 Lunch Break
PANEL 4:
13:45 – 14:30
Daniel Otto, Berlin: Familienbande. Die Salkinds – eine Produzentendynastie der Superlative
14:45 – 15:30
Tereza Czesany Dvořáková, Prague: Filmmogul Miloš Havel. Eine Geschichte in vier Akten
Sunday, 22 November 2021
PANEL 5:
09:30 – 10:15
Thomas Tode, Hamburg: Leo Lania und die Erfindung des Dokumentarfilms
PANEL 6:
10:30 – 11:15
Alexander Donev, Sofia: Heimat und Ausland. Slatan Dudov's Wanderjahre (1919–1946)
11:30 – 12:15
René Pikarski, Berlin: »Wir haben in unseren Filmen bewiesen, dass die Gegenwart langweilig ist.«
Slatan Dudow und die Sorge um den realistischen DEFA-Film der 1950er- und frühen 60er-Jahre
12:15 – 13:45 Lunch Break
13:45 – 14:30
Ralf Schenk, Berlin: Spuren einer Hoffnung. Sowjetische Berater und ihr Einfluss auf den frühen
DEFA-Film
14:45 – 15:30
Closing Discussion
Concept: Hans-Michael Bock, Swenja Schiemann, Erika Wottrich
Beratung: Petra Rauschenbach, Ralf Schenk, Milan Klepikov, Tereza Czesany Dvořáková, Reká Gulyas
Organisation: Erika Wottrich, Swenja Schiemann
Coordination Bundesarchiv: Daniela Tamm
Technical support: George Riley