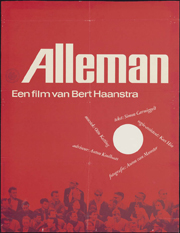 cinefest Opening / Opening film: Alleman (1963, Bert Haanstra)
Opening and presentation of the Reinhold Schünzel Award toKathinka Dittrich van Weringh
Opening films:
Sad Movies: Tulips.
NL 1966. Dir: Wim van der Linden. 3 min.
Short experimental film.
Alleman (The Human Dutch)
NL 1963/64. Dir: Bernd Haanstra. 90 min. engl. Version
Partly filmed with a hidden camera, Bert Haanstra shows in this documentary a charming portrait of his fellow countrymen. The film is one of the most viewed films in the Netherlands and was nominated for an Oscar for best documentary.